Tim Banfield, ex Director of Strategy, MPA wrote the foreword for the SRO guide and says "Great programme leaders deliver great programmes. The emergence of the SRO role over the last 15 years has been a significant step forward. There is more to be done to understand what the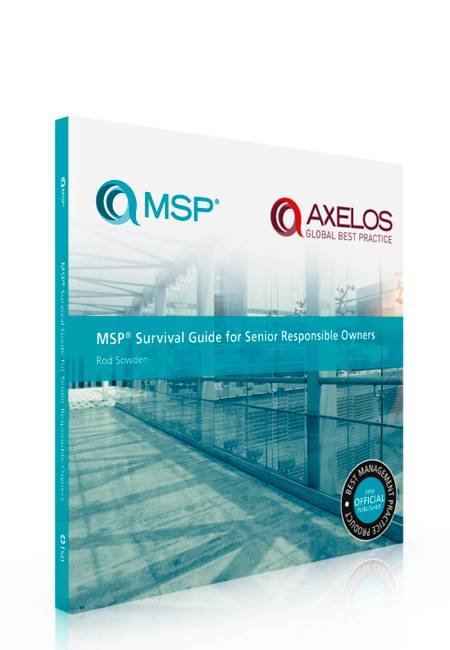 SRO role means in different contexts and to help SROs understand how to be effective in their roles. This book is specifically targeted at SRO's and I am sure it will make a valuable contribution to helping them achieve consistently higher levels of performance in their role"
The Survival Guides are written specifically with a role in mind. The BCM guide focused on the benefits, techniques and processes of business change that the main manual could not cover. The Programme Manager guide focused on the controls and process of the programme. The SRO guide focuses on keeping your finger on the pulse and steering the ship through troubled waters.
In the New Year, we will be producing weekly features with extracts from the book specifically for Executives and Senior Leaders
What you will find in the MSP® Survival Guide for SROs:
Big on practical advice, quotes and examples so your day isn't blighted by pages of bland advice and theory
A foreword by Tim Banfield from the UK Major Projects Authority, one of the most influential figures in the industry today
Written with the assumption that this is your first programme using MSP® so explanations are practical and straightforward
Simplified lifecycle with advice on where to focus your energy
Flip through format for easy access to the information you need when you need it
Each topic focuses on the Magnificent Seven pieces of advice to help you lead your programme
Extracts from the MSP® pocket book to give you greater detail on topics if you need them
Pointers on where to find more detail in the rest of the trilogy.
AXELOS are planning to use the MSP® Survival Guide series for their MSP® Advanced qualifications in the future.
MSP® is a registered trade mark of AXELOS Limited, used under permission of AXELOS Limited. All rights reserved.